Lucy Russell is an actress who appeared in 2 films by Christopher Nolan:
1. In Following, she portrayed The Blonde.
2. In Batman Begins, she portrayed a restaurant guest who spoke with Bruce Wayne about the Batman.
Lucy knew Nolan from university. Following was her first acting role, but since then she has gone on to appear in numerous film and TV roles. In 2002 she was named as one of European cinema's "shooting stars". In 2009, she appeared in The Imaginarium of Doctor Parnassus with Heath Ledger.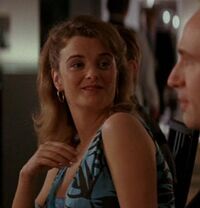 Selected filmography
10 Arenas of Marwood (2011)
Zalika (2011)
The Imaginarium of Doctor Parnassus (2009)
Cass (2008)
Angel (2007)
Tristan + Isolde (2006)
Batman Begins (2005)
Red Rose (2005)
L'Ennemi Naturel (2004)
Everybody is a Killer (2004)
I Am David (2003)
Nude, Descending...(2002)
The Lady and the Duke (2001)
Far From China (2001)
Left Turn (2001)
Following (2001)
Television appearances
Combat Kids (2010)
Doctors (2009)
He Kills Coppers (2008)
10 Days to War (2008)
Clapham Junction (2007)
Avenger (2006)
Midsomer Murders (2005)
Cambridge Spies (2003)
Murphy's Law (2003)
Red Cap (2003)
Rescue Me (2002)
See also
External links