Christopher Jonathan James Nolan is a prolific film director, writer and producer. He is known for his works involving psychological issues, complex narrative structures, with strong emotional themes.
Early life
 Nolan was born in London, to a British father, who worked as an advertising copywriter, and an American mother, a flight attendant. As a dual citizen of the United Kingdom and United States, he spent his childhood in London and Chicago, Illinois. He began making films with his older brother Matthew, at the age of seven using his father's Super 8 camera and his toy action figures. While living in Chicago, he made short films with future film director and producer Roko Belic. They collaborated on a surreal 8mm short, Tarantella (1989), which was shown on Image Union, an independent film and video showcase on the Public Broadcasting Service. He was also briefly affiliated with Dan Eldon's African charity projects, working as a cameraman, in the early 1990s.
Nolan
was educated at Haileybury and Imperial Service College, an independent school on Hertford Heath in Hertfordshire, and later read English literature at University College London (UCL). "Studying English literature got me thinking about the narrative freedom that authors have enjoyed for centuries it seemed to me that filmmakers should enjoy those freedoms as well". He chose the university specifically for its filmmaking facilities, which consisted of a Steenbeck editing suite and 16mm film cameras. He was also president of the Union's Film Society from 1992 to 1994; one of the oldest and most well established film societies in England. Nolan and his long-time film producer, Emma Thomas, would screen 35mm feature films during the school year and use the money earned from ticket sales to produce 16mm films during the summers. He was later named an Honorary Fellow of UCL, a title given out to individuals "who have attained distinction in the arts, literature, science, business, public life or have rendered exceptional service, which may include philanthropic support, to UCL."During this period he earned a living by directing corporate videos and industrial films, before moving to Los Angeles and getting a freelance job as a script reader.
About his work reading scripts, and the years after graduating, working as a struggling independent filmmaker, Nolan recalls. "I was getting $40 per script and I couldn't do more than a couple each day because I really felt responsibility to try and do it well.  Before that I had spent a couple of years doing freelance video production in London, making absolutely no money. I had no personal entertainment budget for anything at all, and when I finally did get a salaried job in London, doing basically the same thing, my immediate response was: 'Well actually, now I can take half of what I'm making every week and buy film with it.' So as soon as I had regular money coming in- or what I felt like steady income - I decided to use it to make Following. In L.A. I didn't give up my day job for a long time, even after Following started getting into festivals. You have to keep your day job a lot longer than you think, basically to pay the rent.
Films
As director
As writer
Tarantella (1989)
Larceny (1996)
Doodlebug (1997)
Following (1998)
Memento (2000) (Screenplay)
Batman Begins (2005) (Screenplay)
The Prestige (2006) (Screenplay)
The Dark Knight (2008) (Screenplay)
Inception (2010)
The Dark Knight Rises (2012) (Screenplay)
Man of Steel (2013) (Story)
As producer
Tarantella (1989)
Larceny (1996)
Doodlebug (1997)
The Prestige (2006)
The Dark Knight (2008)
Inception (2010)
The Dark Knight Rises (2012)
Man of Steel (2013)
Interstellar (2014)
As executive producer
As cinematographer
Tarantella (1989)
Larceny (1996)
Doodlebug (1997)
Following (1998)
As editor
Tarantella (1989)
Larceny (1996)
Doodlebug (1997)
Following (1998)
Gallery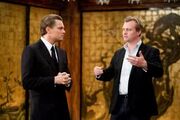 Quotes
"Less is more when it comes to dead dogs." - Insomnia audio commentary
External links